Thanks for your visit to our website. As the Ingham County affiliate for Right to Life of Michigan, we are a local, volunteer organization committed to restoring and preserving respect for innocent human life in our laws and culture.
We are ordinary folk from all walks of life working to create a just society through education, legislation and political action, We invite you to join us in our cause.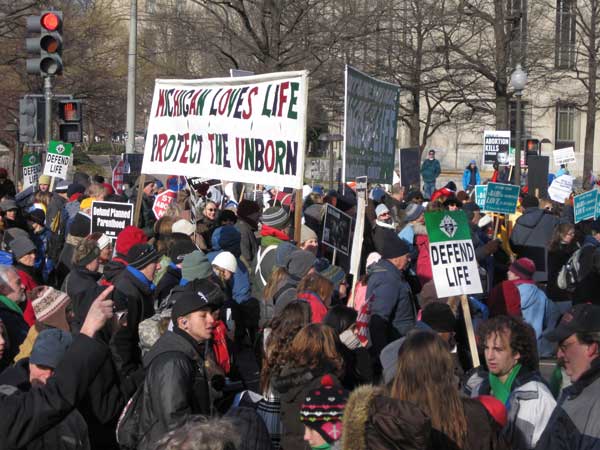 Michigan March for Life – Roe v. Wade Memorial
Wednesday, January 22, 1:00 pm, State Capitol Building, Lansing
Next best thing to going to Washington, DC – join Right to Life of Ingham County as we "March for Life" January 22, 2020 at our State Capitol in Lansing. A short program begins at 1:00 pm on the Capitol east steps. The March begins at 1:30, ending at St Mary Cathedral hall for fellowship, warm drinks and more inspiration. Marchers are asked to bring diapers or other baby items for local pregnancy centers. Elementary and junior high-age marchers who bring an original, life-affirming poster will be entered into a drawing for prizes. Questions? Email info@inghamrtl.org
---
With Justice Anthony Kennedy retiring, the U.S. Supreme Court is losing its most frequent "swing" justice. President Trump nominated circuit court Judge Brett Kavanaugh to take his place. Kavanaugh describes his judicial philosophy as following laws, not making them. Another fair justice would tip the scale farther towards letting voters have a say on abortion laws. The abortion industry believes Roe v. Wade itself is at stake.
BRETT KAVANAUGH PROFILE
WHAT HAPPENS IF ROE IS OVERTURNED
AMERICANS MASSIVELY OPPOSE EFFECTS OF ROE
---
Does Destroying the Unborn Make Us Richer?
Chelsea Clinton thinks so. In her statement at a pro-Roe v. Wade rally, she claimed that women who entered the workforce because of Roe v. Wade have added three and a half trillion dollars to our economy. Setting aside the horrifying moral implications for a moment, her economic statement is simply false. The killing of our future generations through abortion has already begun to destroy our future, at the cost of our moral authority.
---